Here is a topic that is near and dear to me. Conrad Saam spotted this, and I am gonna let him quarterback me and be your wide receiver, and hopefully score a touchdown here.But first, like all good lawyers, let me lay the proper foundation. It was not too long ago I received a scathing [false] review on Rip Off Report that my firm was impersonating a "U.S. Patent Office." Eventually the reviewer phoned me and was giving me a piece of his mind demanding his money back, etc. I was obviously not too happy. "Who is this guy, I thought?"  Read on and expand your mind.
---
The Damage That Bogus Bad Reviews, and Even Negative Inferences and Innuendo Can Do To A Lawyer Online
Any ways, I had to point out to this gentleman above that there are hundreds of law firms in our Downtown Los Angeles Law Offices here. I pointed out that Ehline Law Firm is not in the same suite number as the false patent company he called me about, and asked him how he got my phone number. "Easy" he said:
… you were number one on Google for "attorney," in that building [The Citibank Building in Downtown LA], so I assumed it was you who stole my money.
The reviewer, realizing his mistake in the heat of the moment, went back over to Rip Off Report and commented that he was mistaken, apologized to me, and went on with his business. Unfortunately, Rip Off will not remove even admittedly false reviews so I am stuck with the review and the retraction until someone can come up with a way for me to sue that passes judicial muster.
Damage to Reputation by Inducement by Inference and Innuendo – Colloquium

Sometimes a person can be just as hurt by insinuation as he or she can be hurt by a direct statement. And here is where the latest potential fiasco falls right into a law school course involving the niche area of "inducement" by inference and innuendo, as will be discussed. What is inducement?
In common law pleading, the "inducement" portion of the complaint sets forth … pretations, the plaintiff must also set forth in the innuendo the defamatory … reference to extrinsic facts in the inducement and is referred to as "collo- quium. (Source.)

The idea here is that a person can be defamed in many ways, and not just due to a malicious comment. I am not suggesting that anybody sue Google for defamation, so don't even go there. As a Google stockholder I am not interested in losing my children money. What I am pointing out, is that this new discovery by Conrad Saam is a classic law school essay exam on the many ways Google, or any search provider can indirectly damage a law firm, or anyone else for that matter, by merely using an artificial learning machine to populate data. Ultimately, I hope that Google relies upon our discoveries as Googlers, of deficiencies in the algo, so that Google can improve the search experience.
So now that is out of the way, and you can see I have a bias in favor of Google. Just what do I mean by all this crazy Latin phraseology, and what did Conrad Saam find? Well, first let's get into how a search and a searcher both process data, and determine the best conclusion. Running a Google search is done by typing the query into the search box and then the search results will appear. An example of this might be "what is the time difference between Pacific Standard Time and Eastern Standard Time?" or "When does Daylight Savings time begin in 2015?" Any question typed into the search block is expected to bring content from trusted websites for answers to queries without a required click through.
Google Displaying Innocent Lawyer Names and Inferring "Disciplinary Action"?
While according to Saam, legal questions have not shown up heavily in the past, it appears there may be a large change when a specific lawyer's name is searched for information. The search results are pulling both titles and work histories directly into simple searches from websites including AVVO, which could cause an increased amount of traffic to the website. In California in particular, the State Bar website has a section at the bottom of each search to display any State Bar discipline. As Google gets smarter, it is now creating an attorney database from that State Bar info.
California State Bar Website Screenshot Snippet
The problem lies within the way the data like this may appear on Google. In the above example taken directly from the California State Bar website here, any user can clearly see that attorney Michael Ehline has NO record of public discipline as an attorney. So if a user is savvy enough to be able to do a search on the State Bar website, the user will obtain the correct information, being Ehline has no disciplinary or related actions, which usually will be a determining factor as to whether or not a consumer would want to hire Ehline to help in a car accident, or some other personal injury case, for example. The reason I bring that up, is that PI attorneys already have a bad rap as "ambulance chasers," so a public rebuke by the licensing authority may be the straw that broke the camel's back for a tort lawyer.
The Google Website Screenshot From Conrad Saam Inferring Attorney Discipline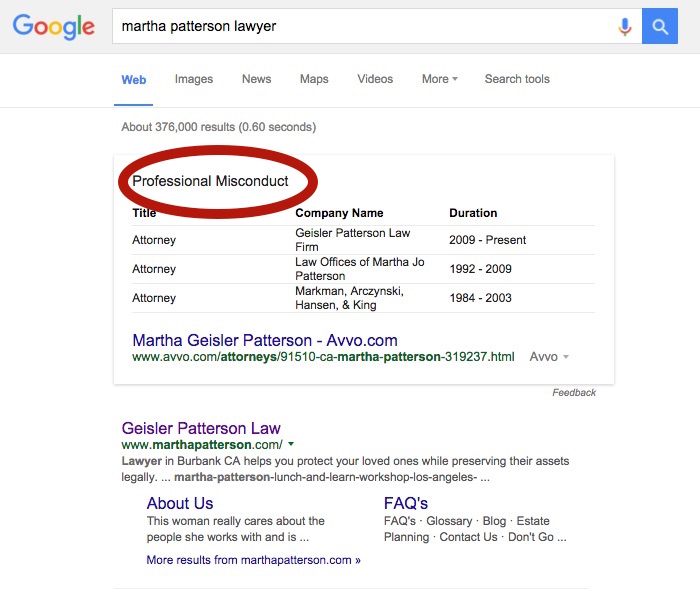 As you can see in Conrad Saam's example, like the one above in the reported search of one attorney whose history goes back to 1984, in bold letters, the title of the Answer Box says "Professional Misconduct." This could easily lead the person doing the search of this attorney to believe she has been sanctioned with every job since 1984. But if the individual clicks through to the result they will find this lawyer has never been accused of professional misconduct. So at common law, the attorney would definitely have a case against the publisher for inducement by simply pleading the extrinsic facts by inference and innuendo, because being accused of attorney discipline when you were not is a harmful and offensive comment that definitely damages your business reputation. And here, Google is not relaying this data from a third party, Google is the creator of its "Google Answer Box," not the sources of the data. The data sources from which the info was scraped actually show no record of discipline.
The other part of this, Saam points out, is that there may be more than one attorney nationwide with the same name as in the case of the reported search with seven other lawyers having the same name in the AVVO directory for example.  This might be a good idea for lawyer searches by Google, but with more than one attorney having the same name with profiles on AVVO or some other lawyer directory, and the fact that the search engine provider might be testing these type sites among professional service providers, it could result in a bad user experience and misinformation about the attorney being searched without clicking through.
In any event, we sincerely hope that Google resolves this problem soon, because honestly, I can find no legal defense for Google, other than utilizing SLAPP, anti SLAPP types of parliamentarian procedures to end the case. The issue is now Google may be forced to spend money defending cases, which means Google will need to find creative ways to get lawyers and others using PPC in order to please stockholders like me. As can be seen above, either directly, or indirectly, a few printed words in the wrong place can do just as much damage as an affirmative false statement could, to a business' reputation. Let's hope Google fixes this glitch soon before we see another search improvement that pushes us all off of page one again.
Sources:
http://mockingbird.marketing/google-erroneously-listing-lawyers-with-professional-misconduct/
Posts by Michael Ehline